SAUNA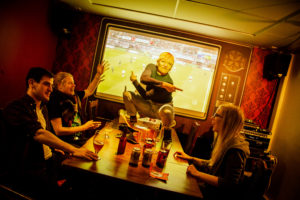 Looking for an extraordinary sauna experience in the heart of Kallio? Bar Loosister's sauna complex welcomes groups up until 16 people at a time, 7 days a week. Bring your own drinks (by law guests are not allowed to buy drinks at the bar and bring them to the sauna area) and order delicious meals from the sauna menu. The lounge is equipped with beamer, fridges, DVD player, stereo set (to connect to your own player, naturally) and the possibility to enjoy the same music that's currently played upstairs at the bar, even in the warmth of sauna.
All guests must be 18 years or older.
>> VIEW GALLERY
>> VIEW GALLERY
>> VIEW GALLERY
>> VIEW GALLERY
Reservations
Make your sauna reservation online now. Open the up-to-date calendar and click on an available date to make a reservation. Alternatively feel free to call us or write an e-mail, we'd be happy to assist or make the reservation for you. After processing the payment (by credit card or a local online bank account, invoicing option for businesses), your reservation is automatically confirmed.
Book Now
Price List
Times available for booking are:
MONDAY – TUESDAY 190€
4 h between 16.00 – 22.00
WEDNESDAY – THURSDAY 190€
4 h between 16.00 – 23-00
FRIDAY – SATURDAY 290€
4 h between 16.00 – 01.00
SUNDAY
4 h between 13.00 – 23.00
Sun – Thu 40 € / one extra hour
Fri – Sat 60 € / one extra hour
Towel rental 3 €
Prices include VAT 24%
The leaseholder is responsible for any damage or loss concerning the property.
The extra cleaning fee is from 75 € to 200 € depending on the damage.